K-9 services is owned and operated by Kevin Sheldahl. Kevin is a full time sworn law enforcement officer with experience training working dogs for nearly twenty years. Kevin has trained dogs in areas of patrol, tracking, and various detector duties. In addition Kevin has participated in police canine sports at the international level.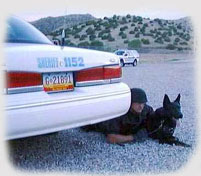 Kevin and his current K-9 partner "CJ" (Cejlon Hundorfu, SchH III, WPO, DPO II) have participated in numerous sporting events for both civilian dogs and law enforcement canines receiving numerous awards for their performances.
Kevin is recognized as an authority in the development of proficient canine teams around the U.S. More than ninety teams have been trained under his direct instruction from start to deployment ready. Through various classes of instruction and seminar experiences, Kevin has influenced more than 1000 K-9 handlers at events such as the Wisconsin Police Dog Handlers Association, Heart of America Police Dog Association, and numerous departmental and regional seminars and workshops. Kevin can be found at various training organizations around the United States and Europe expanding his own education through professional contacts with trainers from around the world. The process of learning never ends and Kevin has traveled broadly to bring the experiences of successful instructors and handlers together to enhance his own professionalism as well as that of his students.
Kevin's personal accomplishments include the titling of his past and current Service Dogs to DPOI, DPOII, SchH I, II, III, WPO, and Certifications from various police dog entities around the U.S. Kevin represented the United States in Lubeck, Germany at the International German Police Dog Championships in 1998 and again in Augsburg, Germany in 1999. He was also the Judge for the USA International Police Dog Championships in Denver, Colorado in 1998. Kevin has served as a police dog judge in a number of service dog events around the U.S.
In applying the above expertise, Kevin relies on the ideal that every dog that leaves K-9 SERVICES would be acceptable within his own department's K-9 program. Although the training is grounded in the German style, it is not constrained by the German traditions and customs which can effect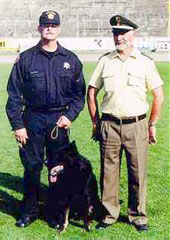 American Law Enforcement's deployment concerns without proper instruction by experienced practitioners of this style of training. The Bark and Hold as a training philosophy has come under fire as has the find and bite style of apprehension work. Most people critical of the Bark and Hold have not experienced a properly trained service dog which can fill all the deployment needs of a find and bite canine when properly trained and deployed and under the direction of a competent and equally well trained service dog handler. See the article in this site called The Bark and Hold for Police Service Dogs.
The philosophy at K-9 services is to provide training strictly for law enforcement. Sport training, personal protection, and guard dog training are dangerously inadequate for law enforcement concerns. The process that a handler candidate participates in at K-9 SERVICES is geared towards producing a well balanced handler with skills in the areas of maintenance training, officer safety, legal concepts for both detection and apprehension work, documentation, and court testimony. This training cannot be produced in it's entirety by civilian sport and/or guard dog trainers.
Please review K-9 Services standards for Selection Testing and Evaluation of Service dogs. You will find no higher standards in law enforcement.